General Safety Information
You are responsible for your own safety no matter what you are doing.  This includes finding and always having a safety watching you while working with fire.
Only safety someone or something if you feel comfortable with the equipment, the person, your safety skills, and the situation.
If someone says they are not comfortable being your safety, thank them for being honest and looking out for your safety.
The safeties have the final call in all things on the field.  Even if you do not agree, please do as they ask and talk to them afterwards so all may learn from the experience.
Before you do anything on fire, you must attend a safety briefing.
Spin off equipment that might damage the field before lighting up.  NO GROUND CIRCLES/LINES/DOTS or fire directly on the ground. We have promised to keep the site in the same condition as before we arrived. (Please, leave no trace.)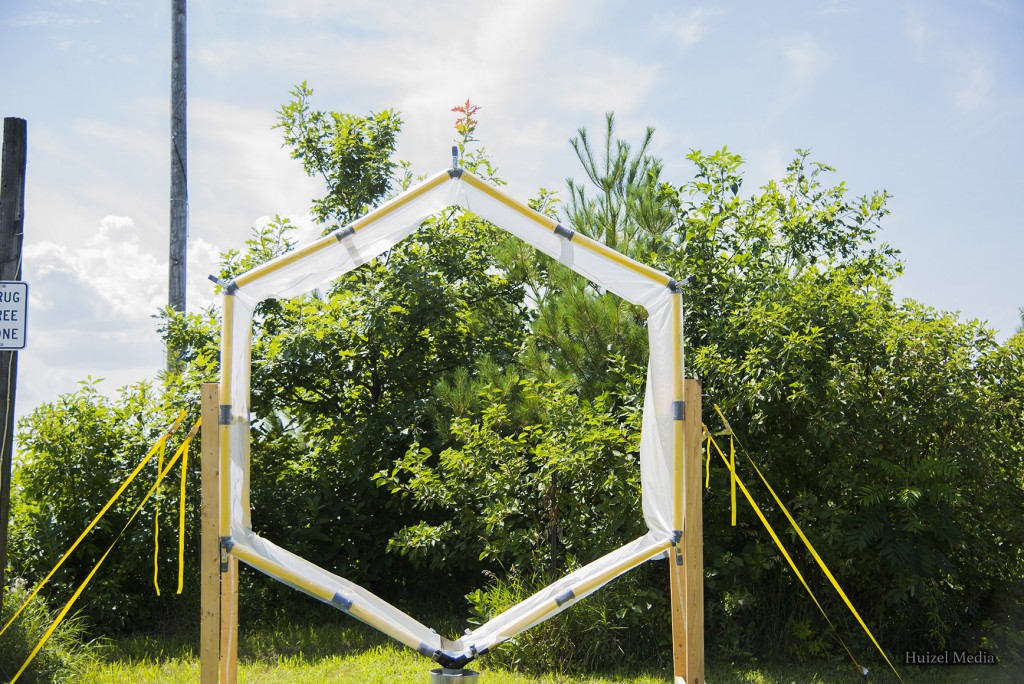 If you are asked to wait on fueling at the fuel dump, please wait.
If you do anything with fire, please be prepared to safety for at least 30 minutes.
Approved minors must be accompanied by a parent or legal guardian that approves of, and takes responsibility for the minor's actions at all times.
BEGINNERS
Use the appropriate system below, and also know that you (or anyone) may always check in with the safety coordinator or a CF vet if you would like help or have questions.  We LOVE new folks. If you'd like a very experienced safety for your first spin, feel free to ask a CF vet or safety coordinator to safety for you.
The first hour or so on Friday and Saturday nights will be geared towards new spinners. If you have never burned before, or have only lit up a few times, we encourage you to light up during these times, when we can give more personal attention, and you will have more free space on the field.
Standard Equipment (standard poi, staff, swords, hoop, torches, fans and other standard-size flames.)  Please err on the side of caution.  If you are unsure, check with safety coordinator.
Look at the field. Is there plenty of room to spin?
Find a safety. Either ask someone standing around the field to safety you (a great way to make new friends) or ask a someone already safety-ing if they would be willing to watch you as well. If you're asking an existing safety, be sure they aren't already watching too many people (two or three) and do it without being a distraction. In either case, make sure you identify what you'll be spinning, and how much experience you have.
Go check and fuel your equipment. You do not have to check in with a manager after fueling. You do have to check in with your safety before lighting up… you must get a head nod.
Walk to where you'll be spinning. Do not walk between safeties and those they are watching. Do not walk close to lit spinners. Consider walking around the perimeter of the field to your spot.
Get a head nod from your safety, light, and have fun! When done, thank your safety, and consider being a safety. Leave the field without getting in the way of other safeties or spinners, keeping in mind that you're still surrounded by lit equipment.
LARGE GROUPS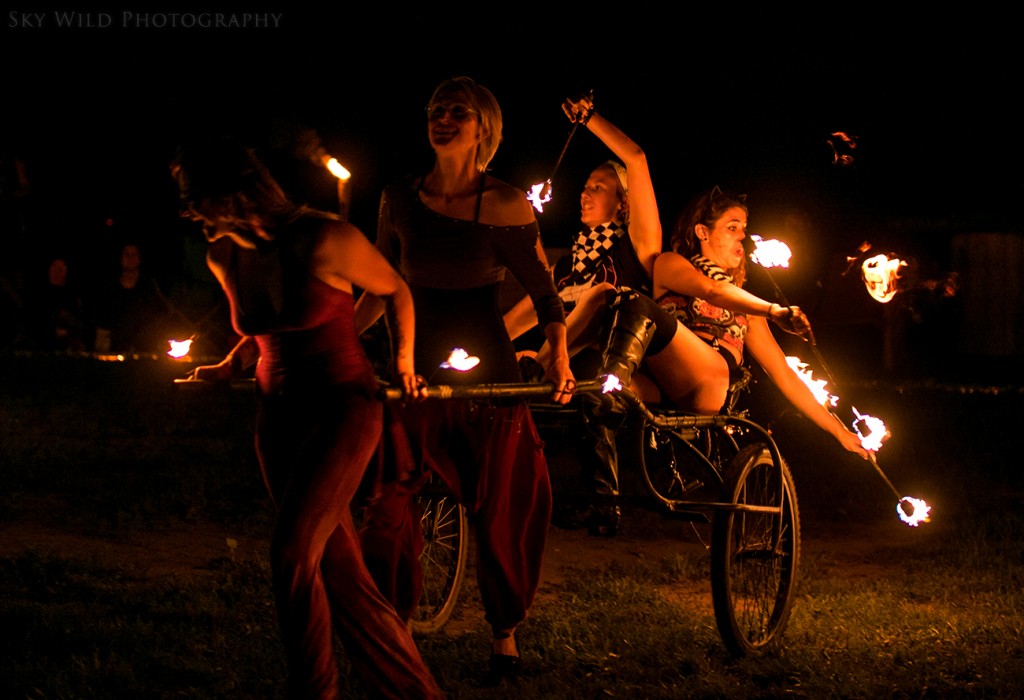 Follow the guidelines for whatever equipment you'll be using.
Be sure to have enough safeties for the size of the group.
Position your safety or safeties where you'd like to be spinning. They shouldn't be interrupting people who are already spinning, but can ask safeties who are positioning themselves in the area for an incoming spinner if they could relocate.
Have a member of the group at the fuel dump before any member begins fueling, have them ask people who are fueling if they could keep the groups area clear.
Fuel up, and wait the few minutes it may take for the area to clear.
Keeping in mind all other safety procedures, go have fun!
Non-standard Equipment, unusual tricks, fire breathing. Find a safety who is willing to safety you and has the knowledge and experience to do so. If you fit into this category please find a safety who can focus only on you.
Bring your safety and your equipment to the safety coordinator for brief introduction and equipment review. Let the coordinator know where you will be spinning.
Non-standard equipment, unusual tricks, – Fuel, go to the spot you are designated as yours, get safety nod, light up, and have fun!
Breathers – go to the spot you are designated, get safety nod, practice breathing.
Thank your safety and field safety coordinator afterwards.
FIRE EATING/FLESHING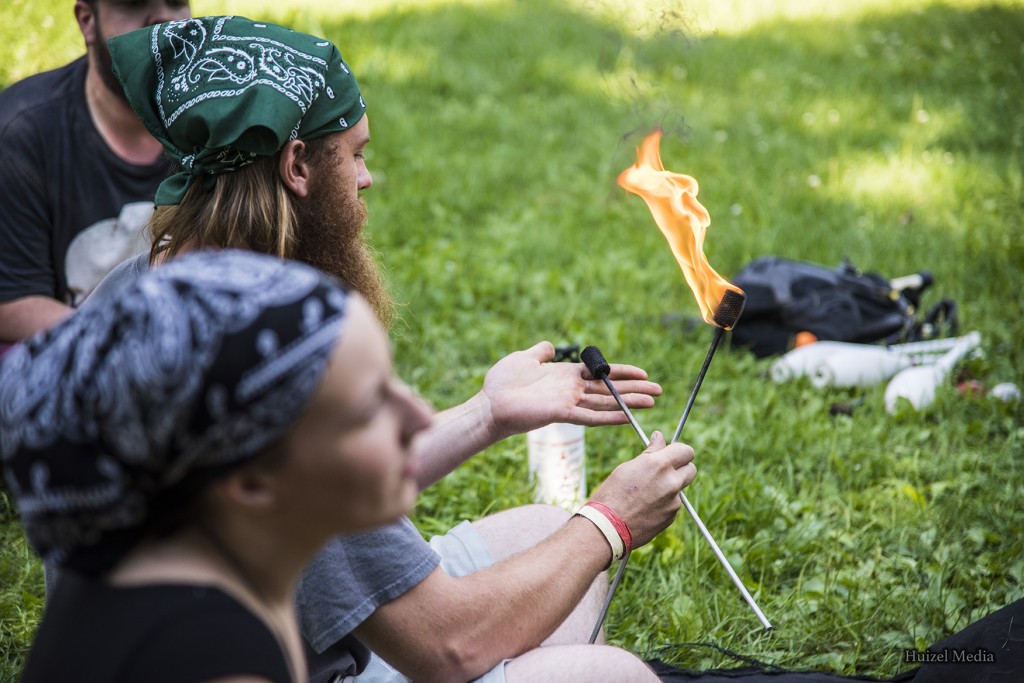 Find or designate your safety. The safety must be standing, outside of the circle while safetying.
Discuss with this person the circle etiquette that you will be using so that they can tell others as they come up.  This includes:
When done, thank your safety.
If the circle is open to anyone joining. (Some are not, which is how some folks like to practice. Please respect closed circles).
If you have specific people you have invited to practice with you who are not there yet.
The maximum number of people you want in the circle.
People joining the circle must have their own equipment.
*** If you would like to join an existing circle, ask the standing safety first what the etiquette for that circle is and follow it.
SAFETY RESPONSIBILITIES
Don't be afraid to decline safety-ing if you are uncomfortable or inexperienced with the tool or style of the spinner.
Don't be afraid to speak up if you see unsafe practices anywhere on the field.
Acknowledge your Spinner – let both of you know that you are watching.
Keep your towel in your hands and ready to use throughout the entire spin. Stay standing or crouched, ready to jump. A single second can make a lot of difference to someone on fire.
Watch your Spinner's Body – warn them of unintentional fire
Watch your Spinner's Space – warn them of encroaching on others, and others encroaching on them
Watch your Spinner Early – most danger happens early in a spin (watch for transfers and handles catching)
Watch your Spinner Late – accidents happen as flames die down and people get tired (watch especially for chain tangles)
If you do see a fresh, possible unintentional fire call out the body part that it is on("Back"). Be loud.
If you see out of control fire on a spinner, call "Stop!" or "Down!" depending on the situation and put it out immediately. Be loud.
Extinguish your spinner's tools if they are ready to have them put out, but don't be afraid to say no if you are watching a new spinner or can't extinguish them at that moment.
FUEL DUMP ETTITQUE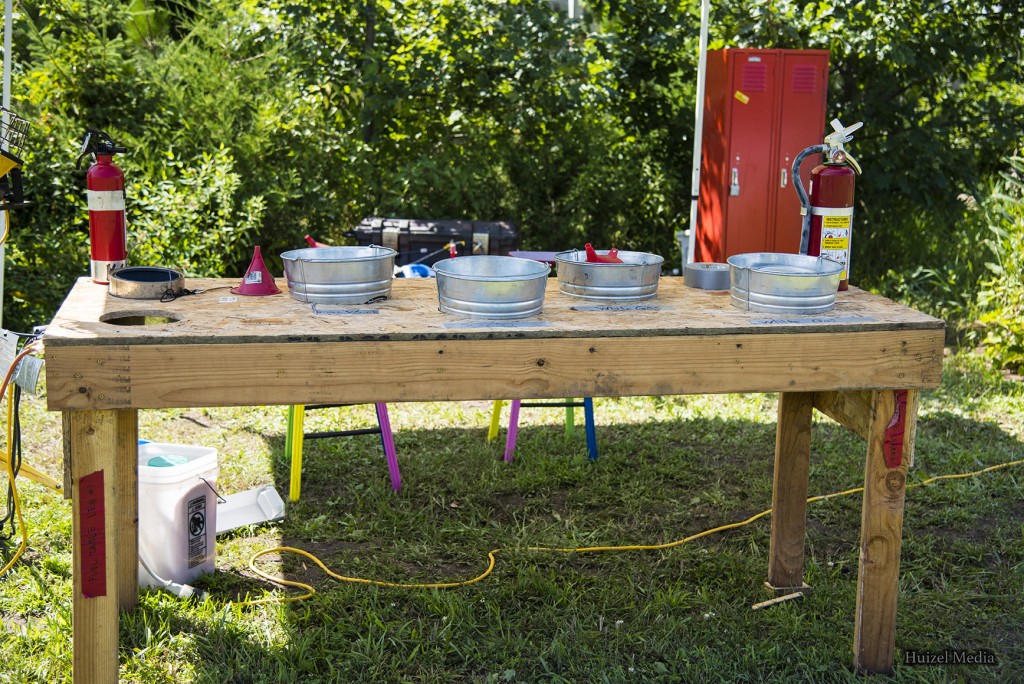 No open flame or smoking near the fuel dump
Ask a safety coordinator before adding a bucket of a new fuel type (like a mixture).  Different fuel types should be marked using a glowstick in the lamp oil bucket
Fuel should be kept in gallon paint cans, and the gallon paint cans should be kept in 5 gallon buckets, unless they need to be removed to fuel a hoop or other tool, they should be put back into the 5 gallon bucket immediately afterwards.
Covers should be kept next to the buckets.
Other fuel containers (PVC tubes for swords, troughs for continuous fans) can stay, but cannot be left where they will be in the way.
If you need to add more fuel to a container, do it. Full cans of fuel should not be close to the fuel dump.
Half empty fuel cans should be kept outside of the fueling area, leave them there until they're empty.

Empty cans should have cap removed, stomped on, and put in a covered trash can away from the fuel dump
Use fuel reclamation station to spin off your props.